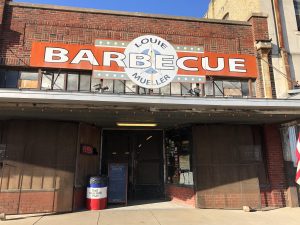 As I journey around the country to find the best, most soul-driven food, I came across a place that not only fed me to the gills but inspired me beyond my greatest expectations.
Over and over I have heard about this BBQ place Louie Mueller BBQ in Taylor, Texas. Diners gather from all over the world for their famous Smoked Short Rib and the locals consider this some of the finest ever.
I had to go see what it was all about.
I had the pleasure of spending time cooking in their kitchen with Wayne Mueller, a third generation Pit Master and truly one-of-a kind individual. Wayne walked me through the history of the restaurant and Texas BBQ.
I learned how his grandfather had the smoker built during the depression from an old naval ship due to the high prices and scarcity of metals at the time. That same smoker is center stage, still being used daily for the restaurant operations… more than 90 years since it was built. As his grandfather's business continued to grow, they built a horizontal smoker for briskets with a brick firebox that takes up about half of the kitchen. Eventually even more smokers were added in the back to keep up with the hundreds of people that come through their doors daily.
No crazy technology or innovations to keep up with the demand, just pure BBQ and hard work. The Mueller family has a strong belief that Texas BBQ is for everyone and they should do their best to make sure they have enough on hand.
Now this restaurant is far from fancy. The walls are tinted brown from the years of smoke. The floors are still coated in the original wood, with sheet metal patches his grandfather installed over broken areas. Even the tables and chairs are from the early days, but Wayne prefers to fix them instead of replacing them, marking the repaired pieces in dedication of his father and grandfather.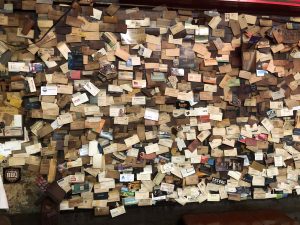 But the coolest thing this place has is their wall of business cards. Wayne told me how it originally started like a neighborhood corkboard. If you needed a plumber, repairman, or anything else, there was a card there. The wall is full of original and new business cards, some that have been there so long they have changed from their original white color to a dark, smoke stained brown. Whenever a card falls off, they save it in a case with all of the other fallen cards.
There is so much heart and history in this place that you can't help but feel special.
As I spent more time with Wayne, he explained to me why he does what he does. He grew up standing on a Coke crate at the prep table linking sausage and doing various jobs around the restaurant, but he didn't stay in the family business. He went on to have a successful career in sports marketing (hence why they have such creative marketing around their brand), but the roaring Texas fires pulled him back. He was looking at the business cards one day and realized how far people traveled and the amount of time people gave to come enjoy what his family created. He wanted to give back to these people the way they gave to his family.
Wayne believes their restaurant is not just a restaurant, but a place of gratitude, and he is the steward, steering the ship from his father to the next generation. Wayne explained to me how the personal connections made there are far greater than any one individual or job… people don't normally talk like that.
His heart and his family's years of dedication shine through the mastery of their craft.
Now let's talk about the food!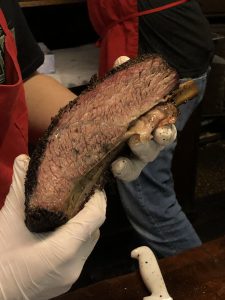 Brisket, short ribs, sausage, pork: all top notch. Slow smoked using local wood with a moisture content less than 20%. This was my first true Texas BBQ experience, and it blew my expectations awa
The short rib portion was between 1.5-2 pounds and pulled apart like cotton candy. The bone slid out of the beef rib plate without any resistance. The simple salt and pepper seasoning allowed the beef and smoke flavors to be the stars of the show. Not a drip of sauce was needed for the short rib or any of the food.
The brisket was succulent, tender and had the perfect Texas bend. Cooking two separate muscles on one piece of meat is no easy task, but both the point and the flat were both cooked to perfection. The briskets are basted with a beef stock a few times while cooking, but otherwise it is just salt, pepper and smoke. The Louie Mueller way of resting the brisket was a slightly different approach than I have seen and paid off big time in the end results.
The sausage was surprising and next level! It is made 100% from the brisket trimmings and stuffed into a natural hog casing. It is then smoked in their original smoker, giving it an amazing snap and juicy inside. The balance of seasoning was perfect with just enough heat. Not a single bite was overwhelmed by spice or smoke.
The ribs were perfect. Just enough pull from the bone and extremely juicy with a great smoke ring. I liked them a lot, but the sauce Wayne came up with a few years ago to accompany the pork had me spinning in circles. The Honey Jalapeno BBQ sauce was so good I could have drunk it! It had this amazing balance of heat and sweet that allowed the full flavor of the jalapeno to come through, not just the capsicum. I have never experienced that kind of balance in BBQ.
Wayne and his family have inspired some of the greatest BBQ champions in the world, and it is obvious why. While they are extremely decorated with accolades like James Beard Awards and BBQ awards, they don't do it for trophies or competitions. They do it because they are grateful for the support and love their customers have shown them. Their dedication and mastery of Texas BBQ has touched the lives of people from all around the world and is a treasure of the Longhorn State.