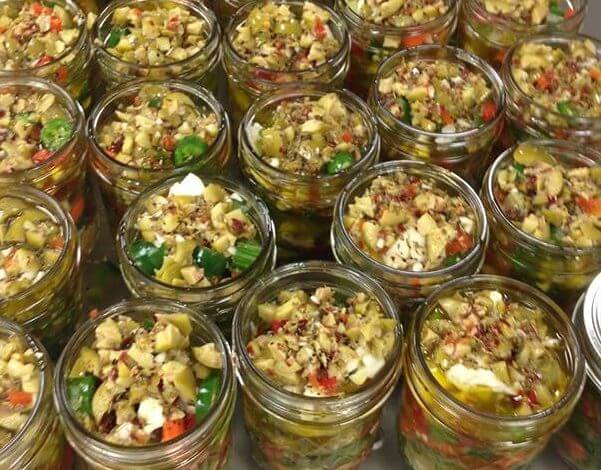 One of my absolute favorite things to make is Giardiniera.
I am constantly pickling, or preserving food in vinegar, all year long.  It is my way of hanging on to the best food throughout the seasons and having them available for a longer period of time.  
In spring I pickle carrots, in summer, sweet bell peppers and a variety of mushrooms and other produce throughout the rest of the year.
Every culture has a version of pickling.  Korean cuisine has kim chi, Mexican has escabeche and German—senfgurken.
It all started from the need to extend the consumable life of food.  What was once a necessity to survive has now become a culinary treasure.  The flavors and textures of pickled foods both accent and elevate today's culinary art.
But in Chicago, we have one thing that stands above the rest.  One delicious component that when added to grilled sausage sandwiches, Italian beef, and even pizza brings out the hometown flavor that makes Chicago so unique.
I'm talking about Hot Giardiniera.  
Giardiniera is a mouth-watering combination of chilies, vegetables, vinegar and oil.  It can be made mild or spicy and is extremely versatile.  This is something I have been eating my entire life and would be hard pressed if I didn't have it in my pantry.  There are a lot of great options in the market to buy, but I can never buy one that gives me the flavors, textures and satisfaction I get when I make it myself.
I now make gallons of hot giardiniera every few months.
My giardiniera is a two day process to prepare and is all about fresh, quality ingredients.  The standard vegetable blend is jalapenos, carrots, celery, and cauliflower, which I love.  Over the years I have altered my blend to add a few more layers of flavor that make it unique and even more delicious.  First things first, let's start with the vegetables.  
1 Green Bell Pepper

2 Red Bell Peppers

8 Fresh Serrano Chilies

1 Celery Stalk

1 Medium Carrot

1 Small Yellow Onion

3/4 cup Cauliflower Florets

1 Bulb Fresh Fennel
I cut all of the vegetables into an even sized ¼ inch dice and mix well.  After I have my vegetable mix, I season them.  I do this by adding ¼ cup of kosher salt and enough cold water to just cover the vegetables.  I stir to mix them well and then place them into the refrigerator overnight.
The next day, after the vegetables have absorbed the salt, I drain and rinse them in cold water.  This is a very important step to assure that the vegetables are well seasoned, but not too salty.  Now it is time to make the brine which will pickle the vegetables and develop the true giardiniera flavor.  
Here is what I use:
2 Cloves of Garlic

1 ¼ Tbsp Dried Oregano

2 Tsp Crushed Red Pepper

½ Tsp Black Pepper

¾ Cup Pimento Stuffed Olives

1 ¼ Cup White Vinegar

1 ¼ Cup Extra Virgin Olive Oil
I finely chop the garlic and olive and put them in a stainless steel bowl.  I add the spices, vinegar and oil and whisk to make sure it is well mixed. Then, I put the vegetables in a glass container.  I pour the vinegar and spice mixture over the top vegetables and stir well to make sure it is evenly mixed.  The liquid should barely cover the vegetables.
Now there are two options to let my giardiniera blossom.  The easiest method is to place the glass container with a lid into the refrigerator.  In 4-5 days, it is ready to eat.  The other way is to preserve the giardiniera by canning it.  But that is a conversation for another day.  For now, give this a try and enjoy your taste of Chicago!